Human Services Alliance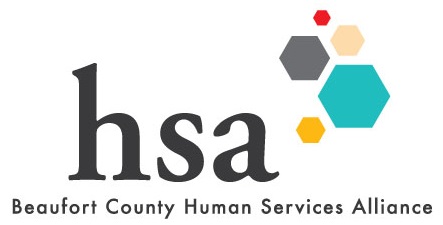 Overview:
The mission of the Beaufort County Human Services Alliance is to promote and sustain activities that improve the quality of life for all Beaufort County residents by creating coordinated, comprehensive, and integrated systems of human services. The Alliance also serves as the backbone organization to Together for Beaufort County, an organizational framework that enhances our community's capacity to address specific social problems (for more information on Together for Beaufort County, click here).
The Alliance achieves its objectives by:
Developing a unified vision of human services;
Tracking, measuring, evaluating, and disseminating community data to stakeholders and residents;
Educating residents, stakeholders, and service providers on trends, issues, and community needs;
Connecting stakeholders, residents, and other partners through a comprehensive referral network;
Facilitating strategic planning sessions, focus groups, and committees to develop culturally-appropriate, evidence-based interventions;
Enhancing communication through bimonthly newsletters and serving as a single point of contact for various community workgroups;
Advancing policy changes to meet the needs of the community;
Identifying funding sources for community projects.
Becoming a Partner:
Any agency committed to improving quality-of-life for Beaufort County residents may become an Alliance partner. Partners may access resources from the Alliance, such as:
Support in communicating information about to the community;
Information, management consultation, and/or board training upon request;
Access to a pool of grant writers and consultants at negotiated rates for non-profits;
Access to annual grant opportunities through Beaufort County Community Services for non-profits;
Inclusion in Together for Beaufort County activities, including but not limited to focus groups, surveys, community forums, and other community engagement events.
Agencies interested in becoming an Alliance partner may complete a registration form. For more information or to register as a partner, please e-mail Ben Boswell at bboswell@bcgov.net.
Human Services Alliance Quarterly Meetings:
The Human Services Alliance hosts meetings on the fifth Wednesday of the month. These meetings are to update the community on Alliance and partner activities, to share critical data and other information, and to provide a networking opportunity for community professionals. Meetings are open to the public, and reminders for upcoming meetings may be found in our bimonthly newsletter.
Human Services Alliance Newsletter:
The Alliance produces a newsletter every two weeks that is distributed to over 700 partners, including agency representatives, community professionals, consultants, job-seekers, volunteers and more. You can subscribe to the newsletter by clicking here. If you are a Human Services Alliance partner and would like to submit content for the newsletter, please e-mail Ben Boswell at respect@uscb.edu with your submission. In addition to agency news, we may also share information about events or training opportunities as long as they are free-of-charge!
Organizational Chart: