Burton Fire District Commission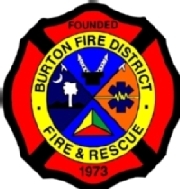 The Burton Fire District Commission provides for fire protection, including all of Burton Township except the area within the corporate municipalities of the City of Beaufort and Town of Port Royal.
Meetings are regularly on the last Wednesday in January, March, May, July, September, and November at 6:00 pm.
Meetings last approximately two hours.
Meetings are held at Burton Hill Station.
Knowledge of finance, long-range planning, and the community the district serves is desired
Council Liaison: Gerald Dawson 
Committee Oversight: Public Facilities and Safety
Current Board Openings
To view our current openings and apply online, please visit our new online tool provided by MatchBoard.
View Openings
Contact

Nichole Bright, Burton Fire District Admin.