Beaufort Memorial Graduates First PATH Class; Scholarships Awarded for Second Class of Students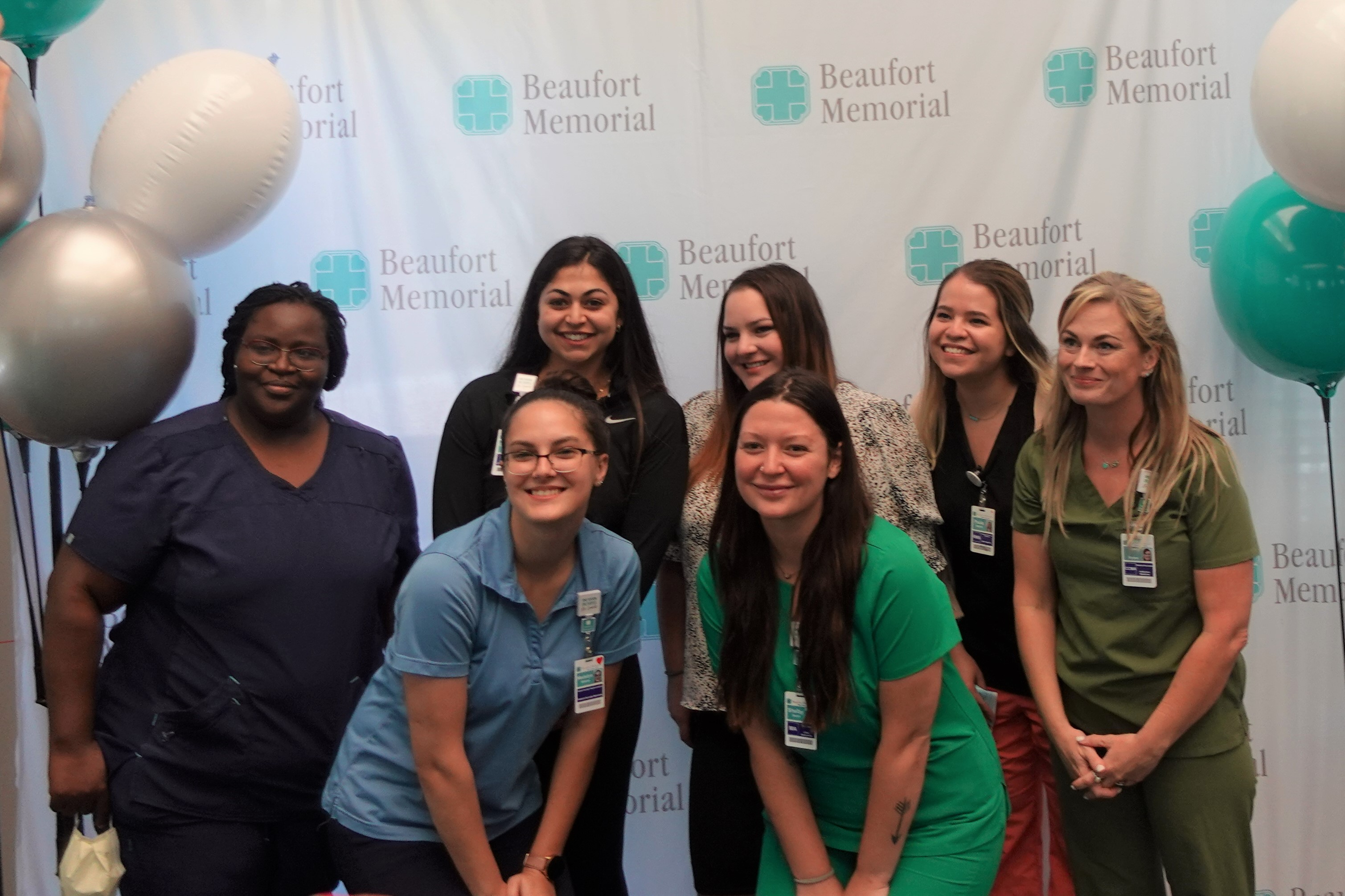 Tuesday, September 20, 2022 3:38 PM
---
The new PATH Program (People Achieving Their Highest) through Beaufort Memorial hospital graduated its first 14 students and 14 new participants signed to accept their scholarships to the program during a special ceremony held recently at the Port Royal Medical Pavilion.
"We are so proud to celebrate our first class of PATH graduates and to welcome our second class," said Beaufort Memorial President and CEO Russell Baxley, MHA. "Everyone deserves the opportunity to advance their careers, and this program allows us to support our employees in their growth."
The pilot nursing program, aimed at bolstering Beaufort County's healthcare system, is known as the PATH program.  The initiative includes scholarships, clinical training, traditional education, and even non-traditional financial assistance to encourage and incentivize individuals to advance their careers and support a better healthcare network.
The PATH program is a joint venture funded by Beaufort Memorial Hospital and Beaufort County.  Beaufort County has contributed $700,000 in federal money from the American Rescue Act along with the support from University of South Carolina Beaufort, the Technical College of the Lowcountry and Beaufort County School District. 
While the initial focus is on existing employees at the hospital, recruitment and increased participation at the high school and secondary levels has already begun. This will be the next wave of participation in the coming years.
"The purpose of the ARPA funds is to build a better healthcare system through workforce development so that when future pandemics or medical crises arise, the system can more readily react, protect, and support the health of the communities it serves," said Beaufort County Special Projects Director Hank Amundson.
Open to Beaufort Memorial employees, USC Beaufort, TCL, and Beaufort County High School students who aspire to grow into careers that require a certification or degree, the program will ultimately offer several avenues for career development to include Certified Nursing Assistant (CNA), Electrocardiograms (EKG) Technician, Certified Medical Assistant (CMA), Pharmacy Technician, and Licensed Practical Nurse (LPN).  From these specialties graduates will be able to use other programs to become Registered Nurses (RN) and higher-level technicians.
"I really enjoyed the program and am proud to be a part of it," Vickey Heyward said. "Everyone was willing and ready to help me out, no questions asked. It has been a very supportive environment to learn new skills and I'm excited to get started on my new path."
Heyward is among the first graduates. A dietary aide who has worked in the hospital's Food and Nutrition Services department, Heyward entered the program with an eye toward phlebotomy and later realized she would like to become a Patient Care Tech.
Upon graduation Heyward will begin working on one of the hospital's two medical/surgical units.
"Vickey has been the top performer in her clinical group, and she is so passionate about her new role at the hospital," said Beaufort Memorial Director of Education Joy Solomon, MSN, RN, NPD-BC. "We're excited to see Vickey and all of her fellow graduates continue to progress in their careers with Beaufort Memorial."
The first 14 graduates completed coursework developed by the National Health Career Association which was taught onsite by Beaufort Memorial's clinical education staff. The participants spent two days per week learning healthcare fundamentals and career specific skills over a 12-week period.
The newest group to enter the PATH Program is split nearly in half between those who will train on site to become phlebotomists, clinical medical assistants, nursing assistants, patient care technicians and electrocardiogram technicians, and those who have been accepted into nursing and other allied healthcare programs at the partnering institutions.
"The Beaufort Memorial team has been the key ingredient in this initiative," Amundson said. "We want to support this mission to both improve our community's healthcare system and help individuals advance in the workforce to provide a better quality of life for them and their families."
Community members interested in learning how they might join the team at Beaufort Memorial and grow their career through the PATH Program are encouraged to attend an RSVP-only Career Fair Wednesday, Sept. 21.
Visit BeaufortMemorial.org/JobFair for details and to reserve a spot. To find current open positions visit BeaufortMemorial.org/Careers.
---