Grand Army Hall of the Republic to Host Ribbon Cutting to Celebrate Restoration Project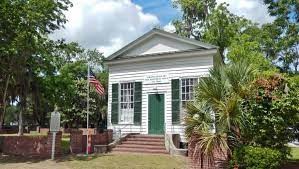 Thursday, June 23, 2022 2:25 PM
---
The Sons of Union Veterans of the Civil War are hosting a ribbon cutting and fish fry to celebrate the recent restoration project. The ribbon cutting will be held this Saturday, June 25, at 11 a.m. The Grand Army Hall is located at 706 Newcastle Street (on the corner of Newcastle and Prince), Beaufort.
There will also be a recognition of Juneteenth with an address by William A. Yancey, Jr. The ribbon cutting and address will be followed by a classic Lowcountry fish fry.
Beaufort County Council ATAX funds contributed $115,000 toward this project. 
The Grand Army of the Republic, a fraternal organization founded in 1866, was comprised of Union veterans of the Civil War. Also known as the GAR, the society included chapters for white veterans and separate chapters for black veterans. Called David Hunter Post Number 9, this chapter in Beaufort was a black post formed in 1888; many of the veterans in this chapter had been former slaves on nearby Sea Island cotton plantations.
Veterans of the United States Colored Troops named their local post after General David Hunter. General Hunter was famous for illegally emancipating slaves in South Carolina, Georgia, and Florida following the capture of Fort Pulaski on the Savannah River on April 10, 1862. President Lincoln rescinded the order – known as General Order No. 11 – for political reasons, though he then permanently emancipated slaves on January 1, 1863. General Hunter also founded the 1st South Carolina Volunteer Regiment, comprised of black soldiers from Union-occupied districts.
Members built this meeting house in 1896. Alice Washington, a descendant of Fred S. Washington, tells us that, "[A]ccording to a deed, David Hunter Post No. 9 rewarded the 'Fred S. Washington Woman's Relief Corps the Hall and grounds for their part and to help to pay for the Hall and for their willingness in helping to care for the veterans.' A partial list of those who signed the deed was Leroy Gibbs, Moses Brown, and Edward Wallace, Commander. This was done June 15, 1896."
Rev. Dr. Elijah Washington and his team of volunteers are currently the leaders of GAHR.
---