Hilton Head Island Airport Passenger Numbers Surpass Pre-Pandemic Highs of 2019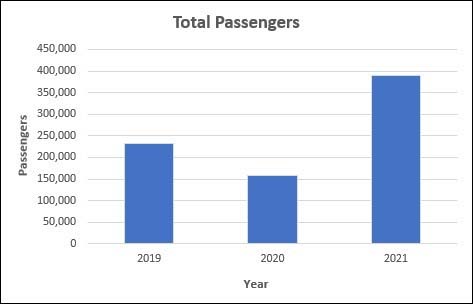 Thursday, January 27, 2022 4:14 PM
---
With additional airline capacity, Hilton Head Island Airport's passenger numbers soared in 2021. More than 388,816 passengers made their way through the Island's Airport, surpassing pre-pandemic passenger levels and indicating a tremendous rebound for the region.
"The post-pandemic growth we've seen at the airport continues to show how necessary added flight options to the island were," said Airport Director Jon Rembold. "Prior to the Airport's growth, passengers often had to fly into an airport outside of the County and then drive to their destination. Our added service options on American, United, and Delta allow passengers to fly into or out of Hilton Head Island Airport and truly start their vacation upon arriving. It continues to be a win-win for both our economy and our travelers."
The Airport is working to finalize funding for a terminal expansion representing the Island that travelers expect. To see the proposed new terminal, visit https://www.beaufortcountysc.gov/topics/hilton-head-island-airport-expansion/index.html.
Compared to year-end passenger traffic for 2020, this is a 145% increase in passengers arriving and departing from Hilton Head Island. When evaluated with pre-pandemic passenger levels in 2019, 66% more passengers utilized Hilton Head Island, highlighting the substantial passenger growth experienced over the last few years.
"The economic impact of the passenger growth seen at our Airport is felt throughout the County. We are grateful for the continued work of our Airports Department on building airline relationships and continuing to enhance access points to our region," said Joseph Passiment, Chairman of the Beaufort County Council. "The Airport is an economic engine and every month with increased boardings directly influences our local businesses and improves tourism to the region."
Airport officials attribute the growth to new air service and added seat capacity both products of passenger demand. American Airlines, Delta Air Lines, and United Airlines all offer passengers year-round and seasonal service to the Island. The past year brought new airline route opportunities to Hilton Head Island Airport, including new nonstop seasonal flights providing further access during the peak summer travel season.
"The Hilton Head Island Airport is a cornerstone within our community, serving both our residents and our visitors as a regional transportation asset," said Hilton Head Island Mayor John McCann. "We need to continue to do all we can to support it. We are thankful for each passenger that chooses to fly in and out of our Island's Airport."

Check flight options today at https://www.hiltonheadairport.com.
About Hilton Head Island Airport (HHH): The Hilton Head Island Airport is a Division of Beaufort County Government, located in Hilton Head, South Carolina. The Airport provides direct scheduled airline access into the heart of Hilton Head Island. The Airport is currently served by American Airlines, Delta Air Lines, and United Airlines. Learn more at www.hiltonheadairport.com or visit us on Facebook at: https://www.facebook.com/HiltonHeadAirport.
---