Widgeon Point Preserve (Virtual) Grand Opening Celebration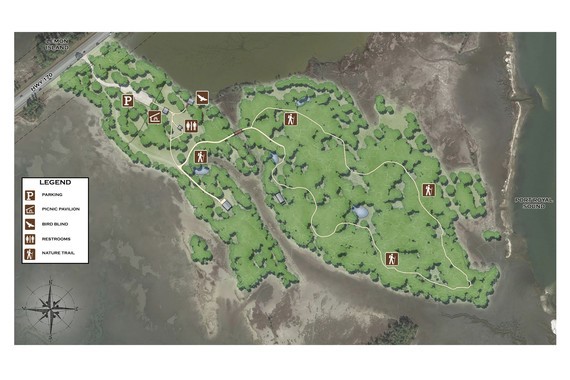 Wednesday, January 13, 2021 8:13 AM
---
Beaufort County is hosting a (virtual) Grand Opening celebration for Widgeon Point Preserve Friday, January 15,  at 10:00 a.m. The grand opening will be streamed on The County Channel.

Beaufort County Councilman Brian Flewelling will provide opening remarks and will lead the ribbon cutting. Immediately following the ribbon cutting, the County Passive Parks Manager and the Stewardship Director for the Beaufort County Open Land Trust will take viewers on a virtual park tour.
Widgeon Point Preserve is located at 43 Okatie Hwy, Okatie (map) and is co-owned by Beaufort County and the Beaufort County Open Land Trust, with the County providing management and maintenance of the property through the County's Passive Parks Program. The Preserve is 170-acres of forested habitats, salt marsh, and hummock islands on the Broad River in Port Royal Sound. Passive recreation amenities on the island fronting Okatie Highway include public access with a permeable concrete parking lot, sidewalks, a picnic pavilion, a bird blind, restrooms and a rustic barn for event rental. The back island fronting the Broad River has a ¾ mile looped nature trail and picnic tables beneath an open-air barn.
Councilman Flewelling is very happy for this public amenity in his District and states, "Widgeon Point Preserve is an absolutely beautiful passive park with great birdwatching opportunities and will provide a lot of enjoyment for the citizens of and visitors to Beaufort County. This park showcases what we can do with your Rural and Critical Lands purchases, and is a great example of the benefits of the program."
The Preserve is open to the public Monday through Sunday from dawn to dusk by an automatic timed gate. The rustic barn can be reserved by submitting a facility rental application to the County's Passive Park Manager, which can be downloaded by clicking here.
For a complete list of County Passive Parks click here. For more information about the Passive Parks Program please call 843-255-2152.
---