Help Our Community Stand Up and Be Counted During Beaufort County Census Day Sept. 9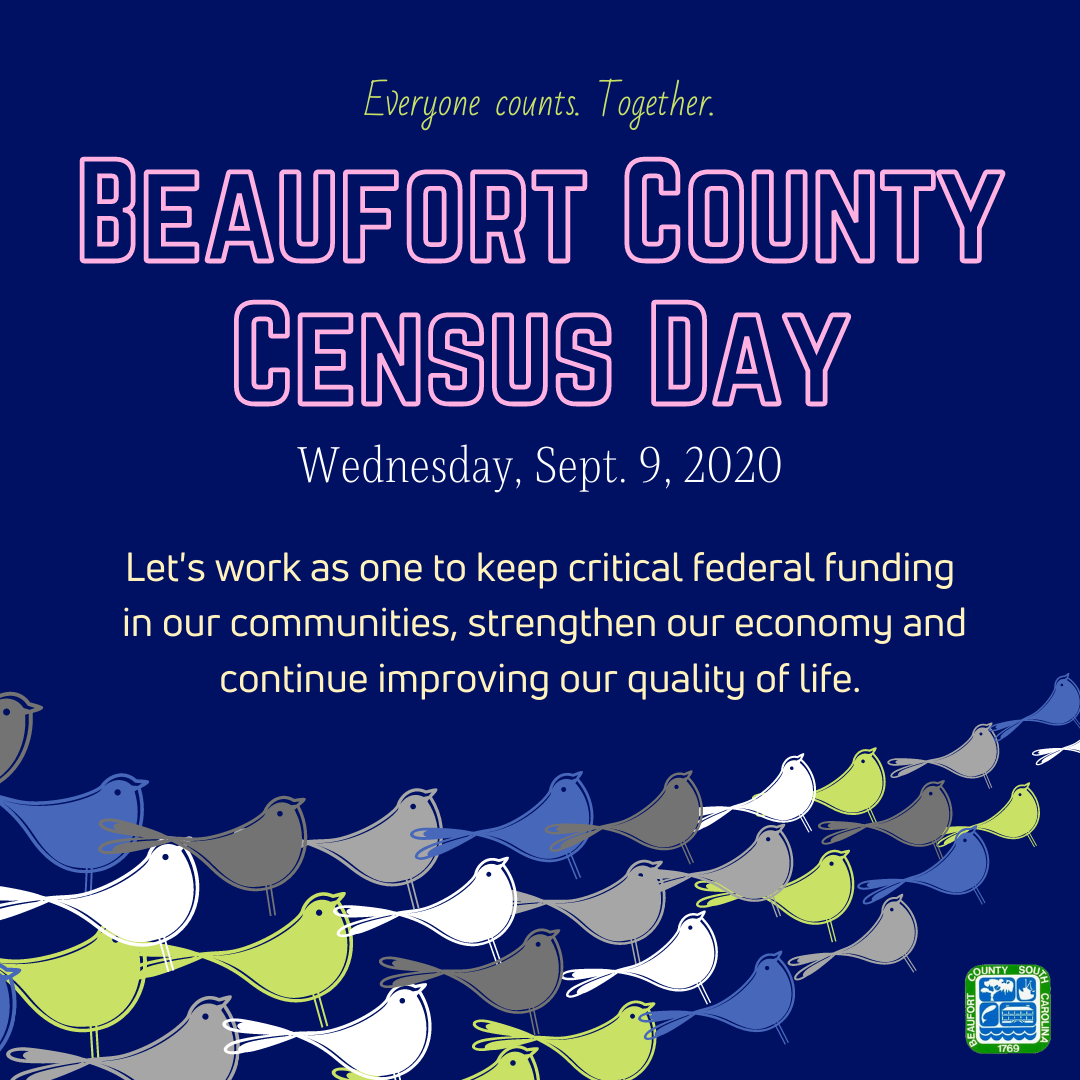 Wednesday, September 2, 2020 8:06 AM
---
The 2020 Census will come to an end Sept. 30, which gives Beaufort County and its municipalities less than a month to increase local participation.
More than half of our residents have not been counted, which puts us at the bottom of the state. 
This is alarming.
We need everyone's help for this to change.
On Wednesday, Sept. 9, we are asking all County residents, businesses, public agencies, nonprofits, churches, POAs/HOAs, clubs and organizations to work together on raising our 2020 Census participation rate by taking part in Beaufort County Census Day in whatever way they can.
Some suggestions for helping:
Publicize Beaufort County Census Day on whatever platforms you have at your disposal (for promotional materials, click here)
Fill out the Census form if you haven't already done so
Post a message on your social media accounts
Send an email to staff urging them to fill out their form (click here to use our email template)
Give your employees 10 minutes to fill out the Census on their computers or phones
If you have a digital newsletter or other mailing list, send a message to your subscribers asking for their participation (click here to use our template)
Post a message on your social media platforms encouraging your followers to fill out their form
Contact friends and neighbors and remind them about the Census
Display this poster at your business urging customers to take part in Beaufort County Census Day
Census data is not only used to redraw congressional voting districts every 10 years, it helps inform federal funding allocations for new schools, roads, health clinics and programs.
According to South Carolina Census officials, local governments stand to lose up to $3,000 a year for each person not counted. This means that for every 100 residents who don't fill out their forms, Beaufort County may lose up to $3 million in federal funding over 10 years.  
In 2010, Beaufort County's self-response participation rate was 53.5 percent.
Right now, we are at 48.7 percent. To meet our 2010 participation rate, we need 8,573 residents to be counted by Sept. 30.
To get an idea of how participation varies throughout the County, click here. 
In addition to funding, Beaufort County could also miss out on opportunities for economic development and much-needed job creation.
Data collected by the Census provides businesses with a snapshot of a community. Business owners use the data to analyze population trends and growth projections; this helps them decide where to open new stores, offices and restaurants and where to expand operations.
Residents can be counted in three ways:
Fill out and mail back the Census form sent to their home
Go to my2020Census.gov and fill out the form online
Complete the Census over the phone by calling 1-844-330-2020 for English (or 1-844-468-2020 for Spanish)
For more information on the 2020 Census, go to 2020Census.gov.
Thank you for helping our community make the most out of the 2020 Census.
---