Beaufort County Leaders to Share Updates Related to COVID-19 in Teleconference Tomorrow, Wednesday, March 25: The County Channel Will Air Audio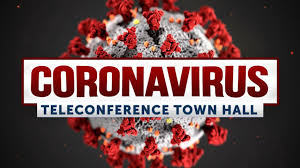 Tuesday, March 24, 2020 4:14 PM
---
Beaufort County Officials will participate in a teleconference tomorrow, Wednesday, March 25, at 9:15 a.m., with community leaders on the front lines of COVID-19 efforts. They will share federal, state and local updates, and how it impacts our Lowcountry community. The audio event will be carried live on Beaufort County's
The County Channel
. The teleconference is being sponsored by the Hilton Head Island/Bluffton Chamber of Commerce.    
Updates will feature:  
Senator Lindsey Graham (tentative; based on pending legislation)
Vice President of Small Business Policy at the U.S. Chamber of Commerce Tom Sullivan
Small Business Administration South Carolina Office Senior Area Manager William Furman
Brannon Traxler, DHEC
Mayor John McCann and Hilton Head Island Town Manager Steve Riley 
Mayor Lisa Sulka and Bluffton Town Manager Marc Orlando 
Beaufort County Administrator Ashley Jacobs 
Beaufort County Schools Superintendent Frank Rodriguez 
Hilton Head Regional Healthcare CEO Jeremy Clark 
Beaufort County Airports Director Jon Rembold
Beaufort County will carry the teleconference live on 
The County Channel
 as well as Comcast channel 2, Hargray channels 9 and 113, and Spectrum channel 1304.
This will be an audio presentation without video.
---